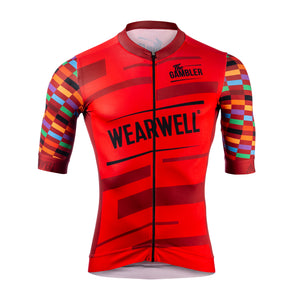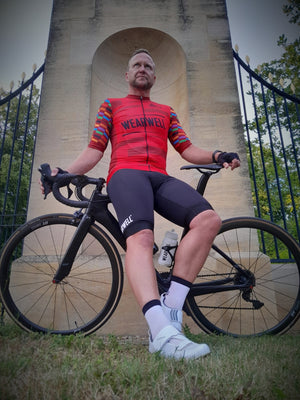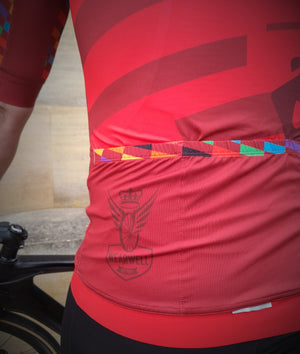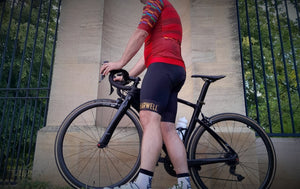 In 1909 the Wearwell Cycle Company was gambled away in a game of chance. When the house always wins, do you stick or twist? Fortune favours The Gambler.
The Gambler jersey takes inspiration from a dark chapter in Wearwell company history. Behind the backs of the business owners, company secretary Mr. King gambled the monthly takings at a local billiard hall. In a game of chance he rolled the dice and lost. Everything.
But, what if fortune had dealt him an altogether different hand? What if he'd won? What would have become of Mr King?
We celebrate all those who have heroically gambled it all. The three man breakaway. The attack from the bunch. The Alpine solo artist. Those that light up the race. Those that dare to dream.
Fortune favours The Gambler....
Details
Race cut design optimised for performance.
Full front divisible zip by YKK with moulded puller

3 rear pockets for storage
Reflective trim under the middle pocket.

Flatlock Rubber zip with fabric zip-guard
Silicon grippers at base of jersey
Printed silicone grip tape on the hem
Printed silicon grip tape on the sleeves

Iconic Wearwell branding throughout jersey
"The Gambler" motif throughout
Made in the EU

Fabrics
Мeryl skinlife main & sleeves

Rip Tek Mesh side panels
Wearwell Size Guide
Jerseys & Bib Shorts
Armwarmers
Jumpers & T-shirts
Gloves and Mitts
 Helpful hint: if you don't have a tape measure, use a piece of paper instead and wrap that around your hand. Mark the point where the paper meets. Then use a regular ruler to measure.