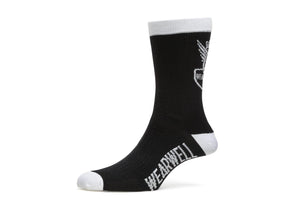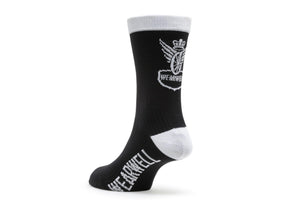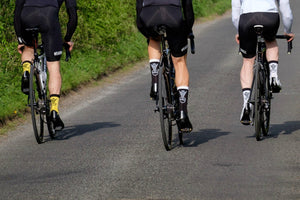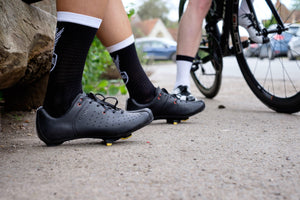 Cycling Socks - Revival Collection | First Edition - Black
Details
Honeycomb mesh across front of sock for secure fit

Moisture management fibre technology offering enhanced breathability & improved temperature regulation
Targeted compression
Padded contact areas at sole of foot for increased comfort
Ribbed elastic for ankle support
The humble sock. Frequently chucked into the laundry basket post-ride, muddied and sodden, without so much as a second glance. Yet, they are frequently the item that - on their own - add both personality and panache to a rider's outfit.  Wearwell's Revival sock range comes in a variety of colours to help you co-ordinate with your own kit, bike, personality or mood. Made from the best technical fabrics available the Revival Sock will keep your feet dry while you look sharp.
 All Wearwell socks are manufactured in the United Kingdom
Fabric
Nylon 85% 
Polypropylene 8%
Polyester 4%
Elastane 3%
Sizes
Small - UK Size 4 to 7 | European Size 36 to 40
Large - UK Size 7 to 11 | European Size 40 to 45
Wearwell Size Guide
Jerseys & Bib Shorts
Armwarmers
Jumpers & T-shirts
Gloves and Mitts
 Helpful hint: if you don't have a tape measure, use a piece of paper instead and wrap that around your hand. Mark the point where the paper meets. Then use a regular ruler to measure.