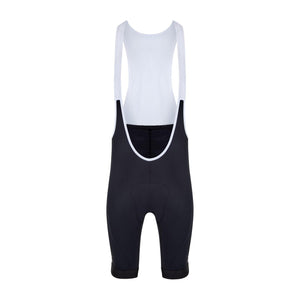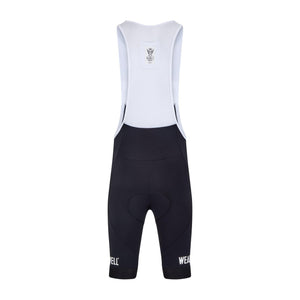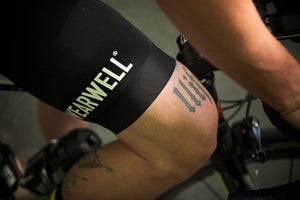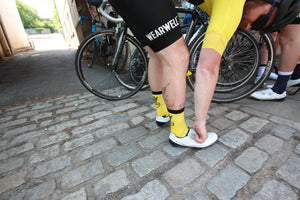 Revival Bib Shorts | Black/White
"A

 very good pair of shorts, and very well made. 

Excellent quality." -

road.cc
 Details
Jet black colour with distinct Wearwell logos on sides
Ergonomic cut to ensure closeness of fit during rides
Soft, breathable bib fabric
Made from high quality Italian fabric
High density Cytech seat pad
Soft silicon grippers at base of short
Radio pocket
Also available with black bib straps
Click for size guide
                                                          
 
Anyone that has done serious miles on the bike knows the importance of good shorts. And when those rides occur with significant regularity, they demand the very best. The Wearwell Revival bib-shorts are a modern take on a classic designed to meet these requirements.

Only the highest quality and most modern fabrics known to pedal-powered man are used as the basis for the design. Ergonomic panels ensure both comfort and closeness of fit. The built in chamois is made from a dense foam compound and provides support and comfort for the rider. Meanwhile the laser cut bib-straps are constructed using a soft, moisture wicking fabric that help to minimise rubbing and irritation across the shoulders and chest. The radio pocket at the rear can comfortably hold a phone, keys or, unsurprisingly, a radio.
Fabric
Buy ANY pair of Wearwell Bib Shorts & get 20% off ANY Wearwell Jersey.
Use code: COMBO23 
Wearwell Size Guide
Jerseys & Bib Shorts
Armwarmers
Jumpers & T-shirts
Gloves and Mitts
 Helpful hint: if you don't have a tape measure, use a piece of paper instead and wrap that around your hand. Mark the point where the paper meets. Then use a regular ruler to measure.